Shopping Cart
Your Cart is Empty
There was an error with PayPal
Click here to try again
Thank you for your business!
You should be receiving an order confirmation from Paypal shortly.
Exit Shopping Cart
| | |
| --- | --- |
| Posted on March 17, 2021 at 9:55 AM | |
Energy Healing, in many forms, is capable of moving stuck Energy.
Hands on Healing and use of medical grade Sound Bowls & my Gongs are my favorite methods. Why move stuck (or congested) Energy? Heres an example I encounter regularly:
Client comes to me for a medical massage with upper back pain extending into the base of the neck, of unknown origin. (That means they haven't done anything that should be attributing to the pain.)
On the massage table, I do not find any ...
Read Full Post »
| | |
| --- | --- |
| Posted on February 28, 2021 at 12:10 AM | |
If you own an animal, who has a past that is less than desirable, stop telling everyone who meets them about it.
From an Animals perspective it is manipulative and a mean thing to do and pointing out prior poor treatment so you can add on the "with ME there will never be any more worries" is low behavior.
Would you like to be introduced to all new people with a story like this: This is my new gal, she used to live with a person who beat her everyday but now that shes with me she...
Read Full Post »
| | |
| --- | --- |
| Posted on February 22, 2021 at 2:35 PM | |
Ok, it is actually more than a year since that last post and I truely will be blogging more. I even hope to master adding videos I have made.
So much has changed in the world of Animal Communication in the last 2 years.
It is now quite common for people to reach out and have sessions just prior to and after the death of a pet. Searching for clarity about end of life decisions that were made. 100% of the time animals have connected ...
Read Full Post »
| | |
| --- | --- |
| Posted on February 4, 2020 at 10:25 AM | |
Hey Everybody
I promise I will blog on a regular basis this year! 
I am learning about doing videos to use with social media, so please bear with me as I am an admitted technophobe and this is quite the learning curve for me.
If you have any topics you would like to see addressed in an educational format please let me know at [email protected]
This could be anything from Animal Communication training tips to how to do a proper Bladder Meridian Massage for overa...
Read Full Post »
| | |
| --- | --- |
| Posted on November 20, 2019 at 7:55 AM | |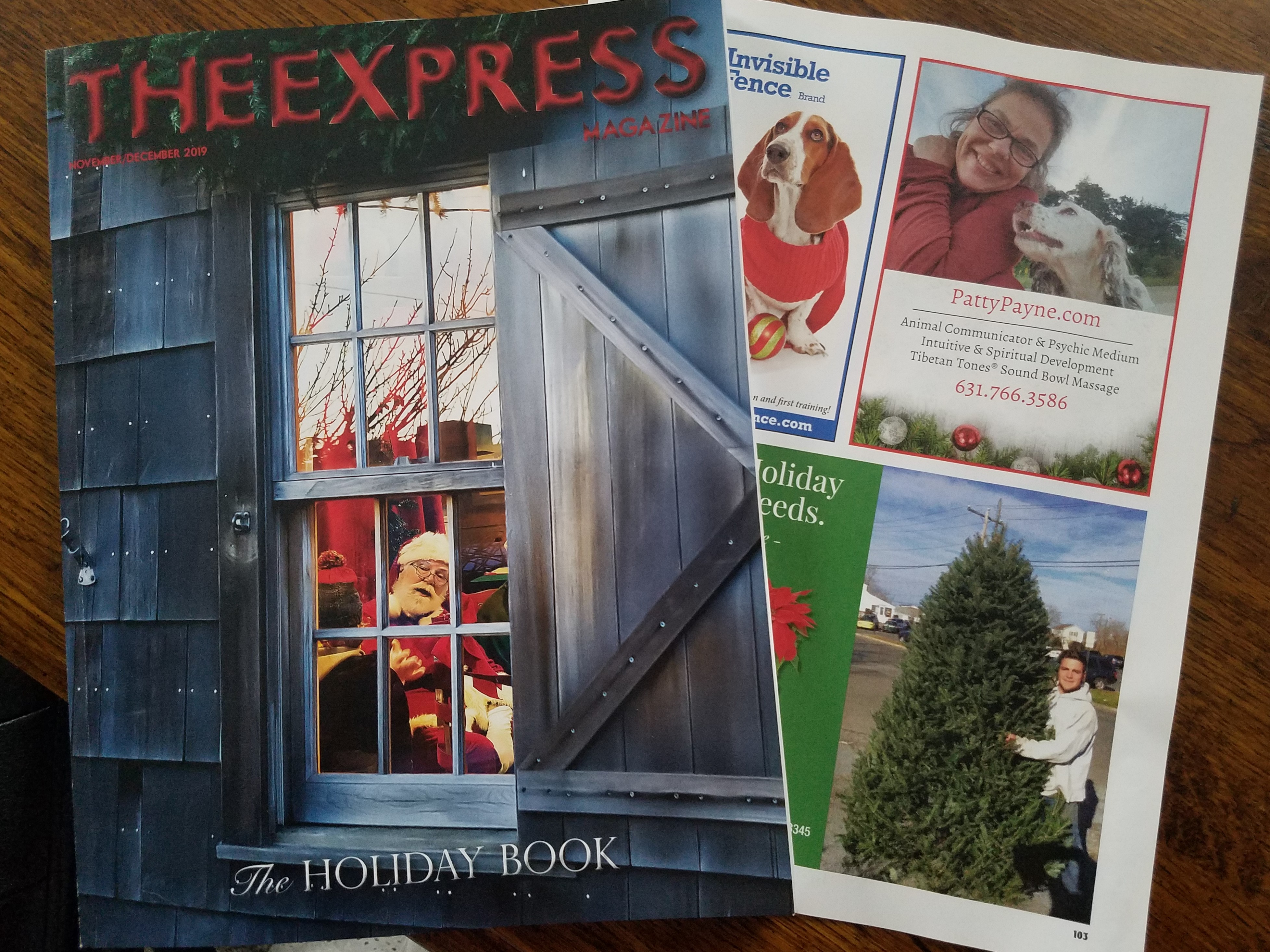 | | |
| --- | --- |
| Posted on October 15, 2019 at 11:50 AM | |
I am constantly asked, What do dogs REALLY know?
To me, at this point in my career as a Animal Communicator, it can easily enrage me to think that people can live with a pet and still ask this question but I have, always, to remember that sometimes we just dont fully understand what is obvious UNTIL we understand what is OBVIOUS.
This includes me and here is the short version of the story.
Monday afternoon Ella said: Take our picture, I will not be here much longer. I said ...
Read Full Post »
| | |
| --- | --- |
| Posted on September 26, 2019 at 11:00 AM | |
In todays rush around world, people want to get to the point quickly, so change can be made quickly and time and money is not wasted. 
Enter the Psychic, or Intuitive Medium. My job is to use ALL of my senses (that I continually work to further develop) so that I can listen to you describe a situation and do what I call an Energy Diagnostic to see what is a match to you vibrationally.
Whether it...
Read Full Post »
| | |
| --- | --- |
| Posted on June 21, 2019 at 10:50 AM | |
Often when I tell people I am a Clairvoyant Medium and Animal Communicator I get the "ooooh you can talk to dead people, whose around me" line. It's a sarcastic thing to say and does identify you as someone who is afraid I will read your mind and judge you harshly.
I know mediums who focus primarily on helping you receive messages from departed loved ones but that is just a small part of my focus professionally (unless we are doing animal communicati...
Read Full Post »
| | |
| --- | --- |
| Posted on May 12, 2019 at 10:45 AM | |
I am pleased to announce that I am expanding my teachings. I realize with time and travel constraints that Skype Classes are needed now more than ever. Yes, I still see clients in person as I always have but now I am going to be able to offer so much more to a society that seems to be waking up more and more to the concept that change IS possible and it may not be as hard and scarey as one is led to believe.
Yes, we are led to believe through much of the media we see on a daily basis an...
Read Full Post »
| | |
| --- | --- |
| Posted on March 24, 2019 at 10:05 AM | |
Easy to understand explaination by renowned scientist Dr. Bruce Lipton on Sound Healing and Vibrational Medicine in general.
No wonder, after almost a quarter century as an Energy Healer, I am at a time of immersion in this study
/